Legal Aid Works® Staff
Ann H. Kloeckner, Esq.

Executive Director
Ann Kloeckner joined Legal Aid Works® in 2011 to take the helm from Bill Botts upon his retirement.  Ann hails originally from Vermont and most recently from Texas, with a non-linear career path emphasizing public service and advocacy on behalf of survivors of domestic violence.  With law licenses in four states (PA, NJ, TX, and VA), Ann is a graduate of Swarthmore College and Villanova University School of Law, where her stint at a legal aid clinical program nurtured her passion for equal justice and her tolerance of a nonprofit lifestyle.  She enjoys mentoring new attorneys and maintains a robust schedule of public speaking engagements throughout the seventeen-county service area.  Ann was appointed in 2016 by the Virginia Supreme Court to a three-year term as a member of the faculty of the Harry L. Carrico Professionalism Course, which is mandatory for every newly licensed attorney in Virginia.
Tamara X. Moore, Esq.

Managing Attorney
Tamara Moore, the managing attorney of the Culpeper branch office, came to Legal Aid Works® in 2007.  She represents clients in their petitions for custody, visitation, child support, spousal support, protective orders, and lawful status in the United States. Tamara is a graduate of George Mason University and received her law degree from Thomas M. Cooley Law School.
William (Willy) C. Herbert, III, Esq.

Staff Attorney
Since 2007 when William Herbert joined Legal Aid Works®, his practice focus has been Family Law.  A general practice attorney in Ashland, Virginia from 1983 to 2007, he was also an adjunct faculty at J. Sargeant Reynolds Community College, teaching Introduction to Criminal Law. As Commissioner in Chancery, his controversial Commissioner's Report was upheld by the Virginia Supreme Court (Jim Carpenter Company v. Jill Meyers Potts, et al., 1998). A member of the Virginia State Bar, Sixth District Committee, from June 1993 until June 1999, William also served as Chair for one year. Additionally, he was President of the Hanover Bar Association. He received his Juris Doctorate from the T. C. Williams School of Law, University of Richmond in 1983 and received his Bachelor of Science in Economics In 1978 from Virginia Commonwealth University. In his spare time he thoroughly enjoys spoiling his grandchildren and teaching a Youth Sunday School Class at Ginter Park United Methodist Church.
Daniel Tur
czan, Esq.

Managing Attorney, Housing/Consumer/Public Benefits

Daniel Turczan joined Legal Aid Works® in 2012 and represents clients in the areas of housing, public benefits, and consumer law. Previous to joining LAW, he served in the United States Marine Corp as an infantryman. He received his J.D. from the SUNY Buffalo School of Law.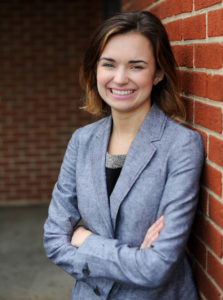 Shannon Clark, Esq.

Managing Attorney
Shannon Clark started working as a staff attorney in our Tappahannock office in January 2017. She grew up in Hague in the Northern Neck and attended Regent University School of Law. Shannon is thrilled to do this work as it combines her passion for the Northern Neck and Middle Peninsula area served by LAW with her passion for empowering victims through the practice of family law.
Brian Han, Esq.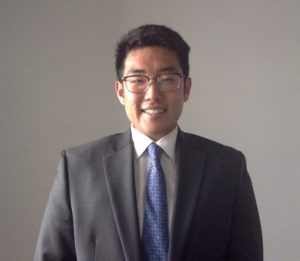 Staff Attorney
Brian Han joined Legal Aid Works as a Housing Staff Attorney in the Culpeper Office in June 2021. As a Northern Virginia native, he received his undergraduate in Government and International Relations, with a minor in Legal Studies from George Mason University in 2015, and received his Juris Doctor from Drexel University, Kline School of Law in 2019. Prior to joining Legal Aid Works, he clerked for the Honorable Craig Wellerson, Presiding Civil Judge, at the Ocean County Superior Court in the State of New Jersey. During law school he served as Student Counsel for the Federal Appellate Litigation Clinic—advising clients in various matters from immigration appeals, settlement negotiations, and Social Security Disability appeals. Brian is ecstatic to be back in his hometown and to be part of the Legal Aid Works team, especially during an unprecedented moment in history.
Alexander J. Reidell, Esq.

Staff Attorney
Alexander Reidell joined Legal Aid Works® as the ACES (Advocates for Credit, Employment, and Shelter) staff attorney in the Fredericksburg Office in November of 2017.  He provides legal advice and representation throughout the 17 counties along the Rappahannock River in housing and consumer debt matters, with a focus of foreclosures.  He received degrees in Political Science and Economics from Arizona State University in 2012, and received his Juris Doctor from William and Mary Law School in Williamsburg, Virginia.  Alexander is excited to be part of the Legal Aid Works® team and the state-wide ACES project, and hopes to leave a lasting positive impact in the lives of his clients and in our community.
Patricia Castro
Bilingual Paralegal
Originally from from Andalusia, Spain, Patricia Castro moved to Fredericksburg in 2014. Patricia has extensive customer service experience with a background in both manufacturing and the restaurant industry. Patricia is very excited about the opportunity to help this community.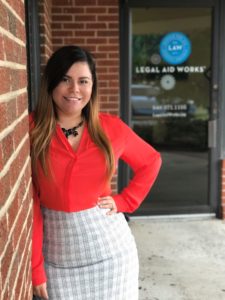 M. Estefani Loya
Bilingual Paralegal
Estefani Loya is rejoining Legal Aid Works (LAW), and is very excited to serve her community and hopes to empower victims of domestic violence . She is a first generation American, her parents are Mexican and she is originally from El Paso, Texas. Estefani worked as a teller before becoming a Paralegal, and has experience as a Paralegal/ Legal Assistant working in family, immigration, and criminal law. While she already holds a Legal Assistant Certification from Germanna Community College Estefani is currently pursuing her AAS in Criminal Justice.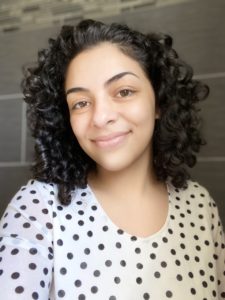 Evelin Villafuerte
Bilingual Housing Paralegal
Evelin Villafuerte joined Legal Aid Works as a Bilingual Paralegal in the Fredericksburg office in September 2021. Evelin was born in El Salvador and came to Fredericksburg where she attended Stafford Sr. High School and graduated in 2018. Evelin moved on to graduate from Virginia Commonwealth University in December 2021 where she majored in Criminal Justice and Homeland Security with a concentration in Justice. As a first-generation college graduate, Evelin hopes to make her family proud in everything she does. Evelin is very excited to work with Legal Aid Works, learn more about family law and be able to help her community.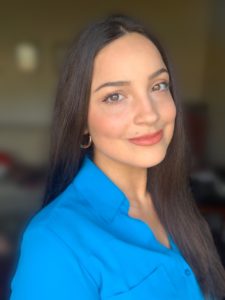 Shaya Mondillo
Bilingual Housing Paralegal
Shaya Mondillo was born in Manhattan, New York to Argentinian parents. She eventually moved to Fredericksburg, Virginia where she graduated from Chancellor High School in 2016. Shaya is currently a senior at Virginia Commonwealth University on a pre-law track as a Political Science major. In her free time, she likes to paint and start new craft projects. She is looking forward to Legal Aid Works being the first step in her career of helping those facing poverty and the hardships that come with it.
Katerina Vollten
Director of Development
Katerina Vollten joined the team at Legal Aid Works®  in February of 2019. Katerina holds prior experience in both resource development and program management across a variety of local and national nonprofit organizations. Katerina has her Masters in Social Work and Business in a Global Society from the University of Southern California with a Bachelors of Science from New York University.  Katerina is passionate about initiatives that help alleviate poverty and increase access to services in her community, and looks forward to the opportunity to do just that at LAW!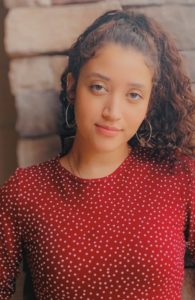 Rossemary Martinez
Bilingual Housing Navigator
Rossemary Martinez is LAW's new Bilingual Housing Navigator who conducts outreach in underserved communities in the Fredericksburg region and assists tenants with completing the VA Rent Relief Program application. She attended Virginia Commonwealth University and Touro University Worldwide and received a B.S. in Psychology and a MA in Industrial and Organizational Psychology. As she is new to the Fredericksburg area, Rose is excited to learn more about the community here and to be working within the community.
Kim McCartney

Intake Specialist/Pro Bono Coordinator
A life-long Virginia resident, in 2020 Kim McCartney celebrated her 15th anniversary as pro bono coordinator/intake specialist for the Tappahannock branch office.  Kim brings to our legal aid setting her people skills and background handling case preparation for a prominent social security disability law firm.  She also served our Virginia school system for a number of years as counseling office secretary and Registrar in a busy high school setting.
Anne V. Menegalli

Program Administrator
Anne Menagalli joined Legal Aid Works® in January of 2015, bringing more than 20 years of experience in finance, business administration and management. She is responsible for overseeing Legal Aid Works® financial operations and ensuring that Legal Aid Works® funding streams are judiciously and effectively managed. Her experience includes more than 15 years of financial management in the nonprofit sector. Before relocating to Virginia in 1987, she was a legal assistant/secretary for a firm in NYC, working in landlord/tenant law. Additionally, Anne has worked with the homeless for more than 15 years and is determined to see equal justice become a reality for all.                 
Carolyn Ross

Pro Bono Coordinator
Carolyn Ross joined Legal Aid Works®  in June of 2015 as the Pro Bono Coordinator, recruiting and working with private attorneys who take cases Legal Aid Works® attorneys cannot take due to their case load.  Her first experience with legal aid was as an administrative assistant in the early 90s with Puget Sound Legal Assistance Foundation in Tacoma, Washington. Due to funding cuts there, she became a patent paralegal with an Intellectual Property law firm in Seattle.  With a thirst for adventure, she made the decision to move to the East Coast and moved to VA in 2006, where she continued her career in a Washington, DC firm. Carolyn is very dedicated to helping the less fortunate in our community and is committed to helping individuals and families receive access to legal services they need, yet cannot afford.
Tamesha Cook

Intake Specialist
Tamesha Cook joined Legal Aid Works in April of 2019, bringing 15 years of experience in office management, business administration and customer service. As the Intake Specialist/Pro Bono Coordinator of the Culpeper branch, Tamesha is responsible for overseeing client referrals and the recruitment of local private attorneys. In her spare time, she enjoys attending her children's sporting events and watching the Investigation Discovery channel. Each day at LAW presents a new opportunity and privilege to help someone in need.
Michelle Truit

Intake Specialist/Administrative Assistant 
Michelle Truit joined Legal Aid Works® as the Intake Specialist/Administrative Assistant in the Fredericksburg office in July of 2017. She brings more than 20 years of administrative and customer service experience to her position. Michelle is a native Virginian who loves spending time with her husband and children. Eager to learn how she can help those in need and make a difference in this community, she is thrilled to be a part of the Legal Aid Works® team where she can ensure that there is equal access to justice!
Photography courtesy of Camille Danieli,  scb photography, www.scbphotographyblog.com