Our Story
Quick!  What are the last three words of the Pledge of Allegiance? Next time you say that pledge, pay attention, especially to those important last three words…they tell the story of Legal Aid Works®  and JUSTICE FOR ALL!

Our Mission: We champion fairness by advocating for those with the least access to the civil justice system.

Our Vision: We envision a just society where barriers to justice are eliminated.
Did you know that there is no right to a free attorney when you are poor and face a civil legal matter?  That right to a free lawyer is guaranteed only if you are charged in a criminal matter.  So every day, all across the country, low-income people have to handle their legal matters on their own, even when the other side is represented by an attorney. We, at Legal Aid Works® try to level the playing field so everyone is given a fair shake in the civil justice system.
In 2016, Legal Aid Works® is celebrating 43 years of working for equal justice. Since 1973, we have been proudly providing free, high-quality civil legal services for low-income citizens in 16 counties and the City of Fredericksburg. We are the only agency that offers this service for the 16 surrounding counties and the City of Fredericksburg.
Back in 1973, a group of local attorneys recognized the problems poor persons faced in finding an attorney to represent them and founded the Fredericksburg Area Legal Aid Society, a volunteer membership group which referred indigent citizens with legal problems to participating private attorneys in the Fredericksburg area.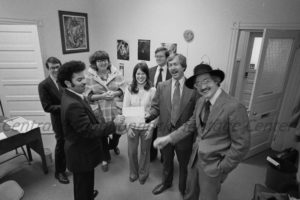 Do you recognize Legal Aid Works® founding fathers (and mothers)? A commemoration of the first check received from the Legal Services Corporation in 1974 allowing the Fredericksburg Area Legal Aid Society to hire its first employee. Photo by Barry Fitzgerald courtesy of Central Rappahannock Heritage Center.
The organization hired full-time staff and changed its name to Rappahannock Legal Services, Inc. (RLS) in the late 1970s to better reflect its expanded service area, which now stretches from the shores of the Chesapeake Bay in Northumberland and Lancaster Counties on the east, along the Rappahannock River watershed to the mountains of Madison and Rappahannock Counties on the west. The service area is larger than the states of Rhode Island, Delaware, and Connecticut with a year 2010 poverty population of 52,573 (a 65% increase over the 2000 poverty population of 31,870).
In 2011, after an extraordinary 26 years at the helm, Executive Director Bill Botts retired, leaving a legacy of tireless advocacy and caring for the low-income individuals in our service area.  He opened up the Northern Neck office in 1979 and the Culpeper office in 1980, and expertly guided this nonprofit through the perilous ups and downs of legal aid funding.
In 2016, we changed our name to Legal Aid Works® to better describe the positive way our advocacy changes lives.
Today
Our dedicated, experienced staff work hard to help clients fight for their rights in many different types of cases, such as housing (landlord/tenant, foreclosures, etc.); family law (domestic violence protective orders, child and spousal support, custody); consumer (debt collection, payday loans, etc.); unemployment benefits; and immigration issues (for victims of crime and domestic violence).
UNMET NEED
Did you know that across Virginia, Legal Aid offices turn away two out of every three eligible clients, due to our lack of resources? Although there is one private attorney for every 346 Virginians, there is only one Legal Aid attorney for every 7,000 poor Virginians. This is a justice gap. Over the last several years of economic turmoil, the need for our services has increased significantly due to the difficult economy, while donations and grants have dropped sharply, also due to the downturn.  With more clients in need and fewer resources, Legal Aid Works®  is in the same boat as many other nonprofits today…doing more with less.
Our three offices handle about 1,100 cases each year with only 5.8 attorneys.  The solitary attorney in our Tappahannock office serves seven counties in the Northern Neck and Upper Middle Peninsula.  The only attorney in our Culpeper office serves the five counties of Culpeper, Fauquier, Madison, Orange and Rappahannock. Three attorneys and one part-time attorney cover the five counties served from our Fredericksburg office. We also recruit and train private attorneys who are willing to take cases on a pro bono basis.
Today, Legal Aid Works® operates 3 offices with 13 full-time and 2 part-time staff providing free legal services in non-fee generating civil matters to those who cannot afford an attorney.
Services provided ranged from counsel and advice to full representation in court and administrative hearings.  We are also available to speak to local groups about our services and general legal topics.
OUR PARTNERS
Legal Aid Works® has also worked closely with a number of community service organizations by helping organize or otherwise support Empowerhouse, the Fredericksburg Area Food Bank, the Thurman Brisben Homeless Shelter, Micah Ministries, Lois Ann's Hope House, Central Virginia Housing Coalition (CVHC), the Al Chaplin Group Home for Non-Violent Youth Offenders, Services to Abused Families (SAFE), Culpeper Community Development Corporation (CCDC), the Ann Wingfield Housing Corporation, the Fauquier Free Clinic, The Haven Shelter and Services in Warsaw, and Tappahannock Free Clinic.
Legal Aid Works® is a proud member agency of Rappahannock United Way.
Legal Aid Works® staff members serve, or have served, on the boards of EmpowerHouse, Hope House, the regional Spotsylvania-Stafford-Fredericksburg Group Home Commission, SAFE, CCDC, Ann Wingfield Housing Corporation, Haven Shelter and Services, Tappahannock Free Clinic, the Piedmont Dispute Resolution Center, and Family Focus and Scenario.
Legal Aid Works® staff members regularly provide community education through presentations to groups at homeless shelters, the Area Agency on Aging, Senior Centers, and nursing homes. If you would like to arrange for us to come and speak to your organization, please contact our Fredericksburg office.