Jazz 4 Justice™
Fredericksburg. Where Jazz and Justice For All Meet!
Saturday, November 4, 2017
The reviews are in and it's unanimous: Jazz4Justice™ is an annual concert not to be missed! And, to ensure you won't miss it, Jazz4Justice™ is always held on the first Saturday in November, at 7:30 pm in UMW's Dodd Auditorium.
Thanks to the efforts of Paul Simpson, former president of the Fredericksburg Area Bar Association (FABA), and former UMW President Rick Hurley, a remarkable partnership developed between area lawyers and the University of Mary Washington. Through their combined efforts, Fredericksburg and its surrounding communities are treated to annual Jazz4Justice™ concerts.
Jazz4Justice™ is an uplifting evening of the vibrant multi-dimensional jazz music. The UMW Jazz Ensemble, under the energetic leadership of Doug Gately, brings the audience at UMW's Dodd Auditorium to their feet, with sizzling, diverse programs of jazz standards, original tunes and blazing solos. There's something for everyone, no matter what age you are!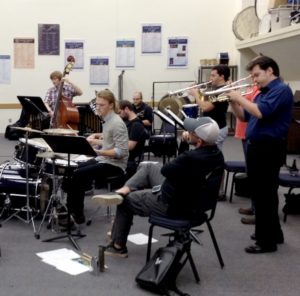 A popular feature is the after-concert open jam session where members of the audience, of all ages and ability levels, are encouraged to come onstage and join the musicians in an improvisational postscript to the evening.
True to its name, this event has a purpose. Jazz4Justice™ proceeds support programs that enrich our community, level the playing field for those in need, and make our area a better place for all of its residents. Net proceeds are equally divided and donated to the University of Mary Washington Jazz Ensemble and Legal Aid Works® to provide:
Scholarships for UMW students studying music. (In fact, the UMW performers include previous years' scholarship recipients.)
Legal services for low-income area residents, ensuring equal access to justice.
In addition to the gracious co-hosts, various sponsorships from area businesses, individuals and law firms help to boost the success of this unique fundraiser.
To Become a Sponsor
Please contact Briana VanAudenhove, Development Director, at Briana VanAudenhove or call (540) 371-1105 X 121 if you would like to become an event sponsor and get your name in front of residents and businesses in the greater Fredericksburg area. Read more information on sponsorship or see the sponsorship levels on our sign up form.
To Purchase Tickets
Tickets will be available for advance purchase beginning in September. A link will be added to the home page and throughout the website so you can purchase tickets online.
In September, tickets will also be available for purchase at the following locations: Roberson's Music 1300 Jefferson Davis Highway | The Fredericksburg Visitor's Center at 706 Caroline Street | Creative Music at 7001 Harrison Road | Legal Aid Works ® at 500 Lafayette Blvd., Suite 100 or online at www.legalaidworks.org.
The Origin of Jazz4Justice™
In 2000, Fairfax attorney Ed Weiner, President of the Fairfax Law Foundation, attended a student recital at George Mason University. Impressed by the music, but distressed by the small audience, he saw an opportunity for a new partnership – George Mason University's School of Music and the local bar association. If the School of Music would provide the musical talent, the local Bar Association would provide the audience and sponsors. Today, Jazz4Justice™ concerts are held throughout the Commonwealth of Virginia. Thus far, these concerts have raised more than $200,000 for music scholarships and an array of educational and charitable services benefiting Virginia's local communities. Jazz4Justice™ has received awards from the American and Virginia State Bar Associations.