Purchase Jazz4Justice™   Tickets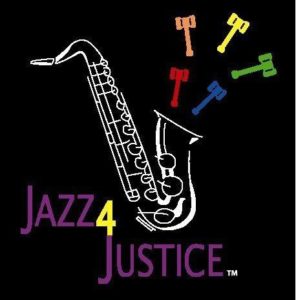 Purchase Jazz4Justice™   Tickets
Presented by the Fredericksburg Area Bar Association
and the University of Mary Washington
The UMW Jazz Ensemble, directed by Doug Gately, will perform a live concert in
George Washington Hall's Dodd Auditorium on the UMW campus,
Saturday, November 3, 2018 at 7:30 p.m.
General Admission Tickets: $10
Students & Seniors: $5
Net proceeds to benefit Legal Aid Works® and the UMW Jazz Ensemble
Questions?
Call Ann H. Kloeckner, Esq., Executive Director, at 540-371-1105 Ext. 116 or
Email:  akloeckner@legalaidworks.org
This ticket purchase form can only process one ticket type at a time (adult/senior/student), so if you will be purchasing more than one type (student and adult tickets for example), you will need to process one type first and then return to this page to process the other type.
Advance tickets available at:
Roberson's Music 1300 Jefferson Davis Highway | The Fredericksburg Visitor's Center at 706 Caroline Street | Creative Music at 7001 Harrison Road | Legal Aid Works® at 500 Lafayette Blvd., Suite 100 or online at www.legalaidworks.org